What is IB and Why Does it Work in Washington Township?
Posted by
The history of education reform is full of little programs that have improved education for small groups of children.  Washington Township knew it was time to do something big and far-reaching.  Washington Township is one of six districts in the world to offer the International Baccalaureate (IB) continuum of international education district-wide. 
The IB is a comprehensive reform strategy proven to enhance the educational attainment of every child by offering a continuum of education, consisting of three programs for grades K-12. The programs are defined as the Primary Years Program (PYP), the Middle Years Program (MYP), and the Diploma Program (DP). Together the programs form a coherent sequence of education by promoting the development of the whole child through an emphasis on intellectual, personal, emotional, and social growth.
For 30 years Washington Township administered the International Baccalaureate Diploma Program for only the highest performing high school students. Several years ago the idea was brought to the Washington Township Board of Education to provide the International Baccalaureate program to every student in the district with the simple belief that if instructional practices used for the highest performing students were good, then the same practices would be beneficial for all students. Washington Township has the desire to change the culture in education from random acts of improvement to a systemic approach. 
Implementing the IB framework across the board to all students K-12 provides every student the opportunity to learn at the highest level possible. Teachers instill a positive attitude for learning by encouraging students to ask challenging questions, to reflect critically, to develop research skills, and to learn the importance of service. IB programs combine best practices in the teaching and learning process to bring about a profound change in the way instruction is delivered.  Inquiry-based instruction is a student-centered and teacher-guided approach to learning.  Students create their own investigations into real-world issues and pose questions as they explore concepts and construct knowledge. The outcome is that graduates from the IB program are not only prepared academically, but are equipped to use their education to navigate in a 21st century world. 
Furthermore, the district is committed to providing each student, regardless of his or her abilities, socio-economic status, or nation of origin, with a world-class education. It is important to note then, the demographics in our school district. Comprising 72 different native languages spoken in the homes of our families, the district is rich with diversity. As a designated federal refugee settlement community Washington Township is proud to be home to a large number of refugee students. Additionally, 60% of our students are on free and reduced lunch. Our demographics speak to the importance of and the ability to put all students on an even playing field, offering the same high level of curriculum delivery to every student. We are proud that through the work of many individuals, from the Board, through to administrators, and in the classroom, every child in Washington Township is an International Baccalaureate World Student. 
The IB program works in Washington Township! It works because students are thirsty to learn, and to learn to their highest possible potential. It works because we are a globally diverse community and the infrastructure of the IB program embraces that diversity and inspires teachers, students, and administrators to empower themselves and others. We have found there to be a significant difference not only in academic achievement with the implementation of IB, but also in student behavior. The global approach to learning works because it challenges us to have an increased awareness and level of empathy for one another. We have found there to be a growth among students in respect for one another's cultures, socio-economic backgrounds, and religions. The IB program works and it works well in Washington Township.
Does your child or someone you know attend a school with an IB program? Do you see a difference in their learning? Share your thoughts by commenting below, and on social media using #AmGradIndy.
_______________________________________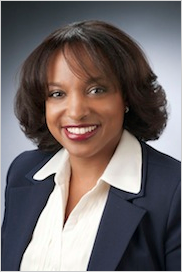 Appointed in May 2011, Nikki C. Woodson is the Superintendent of Schools for the Metropolitan School District of Washington Township. She feels that the long legacy of achievement for students in Washington Township is a mark of a supportive community to achieve superior schools.