American Graduate Champion: Michael Johnson
Posted by
Congrats to Michael Johnson for being nominated as an American Graduate Champion!
Michael Johnson has held many titles in his lifetime-- "a force to be reckoned with," student service employee, advisor, and now an American Graduate Champion!
Michael serves as the Student Family Care Advisor at Harrison Hill School of Inquiry and Performing Arts. With a social work background, his position is made possible through a generous Student Success Grant from the United Way. His background includes work in student development and family care coordination, and he worked with district employee, Staci Adams in the development of the Diagnostic Day Treatment Program. He is one of three student services employees at the school.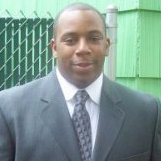 The Student Success Grant objectives are aligned with the nationally-recognized "Wraparound Model". This intensive, holistic method is designed for students and families that have more complex needs with the resources to benefit the whole family system. The after-school/summer programming will provide extended learning and enrichment opportunities to students who don't typically have the opportunities to pay for camps, lessons and exposure to exploring their talents.
Harrison Hill teachers will receive additional training in working with students who have experienced trauma and bring life challenges to the classroom.Over the course of three years, grant funds will pay for additional, specially trained staff, stipends for teachers for after school trainings and student opportunities, fees associated with receiving training from experts at Gallahue Mental Health Services, as well as supplies and equipment for the student programming.
When Johnson began at Harrison Hill, attendance was an immediate focus. Johnson said, "Harrison Hill Elementary wants to emphasize the importance of each student being in the classroom for the entire school day, as well as arriving on time to school every day. In our school, instructional time is precious. Consequently, we view chronic tardiness and absences as a serious barrier to student achievement."
Johnson is credited with the creation of the "On Time" club. The "On Time" Club is working to reducing tardies to school and absences. He focused on a small group of students that have 10 or more tardies (affectionately referred to as On Time Stars). Johnson updates an On Time Star Board in his office daily, and students are able to see how many stars they have each day. We have had about a 40% decrease between Oct to Nov in the number of tardies. Incentives have been provided to the students he is working with.
The first two incentive activities took place Friday, December 19th. Several students have earned the right to be introduced on the court as "honorary starters" at the Lawrence Central Basketball game. December 19th was also the kick off "On Time" dance. This first dance, all students were eligible to attend and it took place during the school day. Future dance invitations will be "earned" by being on time for school. Additional "menu items" for On Time Stars include: Pencils, Hat Passes, Slipper Day Pass, Bring a stuffed animal to school, Use Your Teacher's Chair, Extra Reading or Computer time, Library Assistant Pass, or a Special Surprise! October tardies and absences decreased from 774 to 472 in November.
__________
Who is your American Graduate Champion? We invite you to share your Champion stories on social media, and to challenge others to do the same.
Share your nomination on Facebook and Twitter using #AmGradIndy. Sign up to become an American Graduate or nominate someone here!